Keyamo says UAE has granted Air Peace approval for Direct Flight to Dubai
Says Emirates Airlines ready to resume flights to Nigeria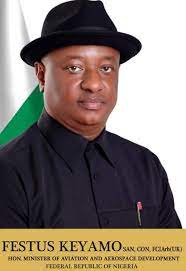 Minister of Aviation and Aerospace Development, Festus Keyamo, SAN, has disclosed that the government of United Arab Emirates (UAE) has granted Air Peace the approval to operate direct flight to Dubai.
Keyamo, also disclosed at the weekend, that Emirates Airlines, which has stopped operations to the country due to its inability to repatriate dollars earned in the country home, has announced its readiness to commence direct flights to Nigeria.
The minister said the Emirates Airlines' management disclosed of its readiness to resume flight to Nigeria at the just-concluded Dubai Airshow.
In a statement issued, the Head, Press, in the Ministry of Aviation and Aerospace Development, Odutayo Oluseyi, said that the minister also met with the management of Airline Executive, led by its CEO, Dana Hatcic, a company that indicated interest in establishing an MRO facility in Nigeria.
Oluseyi said the minister expressed the possibility of a maiden edition of the Nigeria Air Show sometime in November 2024, adding that Nigeria will be the first African country to organize such an event.
The minister also visited the pavilions of leading aviation and aerospace industries in the world to inspect modern technologies that could be of use in driving his 5- Point Agenda for the aviation industry in Nigeria, particularly the improvement of infrastructure and promotion of innovation and creativity in cutting-edge technologies relating to civil aviation.
The Dubai Airshow, which began on November 13 and ended on November 17, 2023, attracted a significant number of participants from around the world, as well as leading aviation and aerospace industry specialists.