Sanwo-Olu Signs Executive Order Establishing Lagos International Financial Centre Council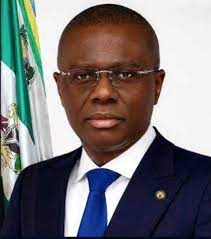 Lagos State Governor, Mr. Babajide Sanwo-Olu has signed Executive Order, establishing Lagos International Financial Centre (LIFC) Council in furtherance of its objective position Lagos as Africa's premier financial centre.
The governor said in his address at the inauguration of the council that the Lagos International Financial Centre (LIFC) Council is being propelled in partnership with EnterpriseNGR – a member-led advocacy group that promotes the growth and development of Nigeria's Financial and Professional Services (FPS) sector as a catalyst for economic development.
The governor, who will chair the Council explained that the key objective of this historic participation in the Lord Mayor's Show is to showcase the investment potential of Lagos and to elevate the state as a global investment destination.
Sanwo-Olu hinted that LIFC Council's objective established with Executive Order 3 is clear, as it would help to align strategic partnerships that contribute to the economic prosperity of Lagos and Nigeria by establishing Africa's premier International Financial Centre in Lagos in line with the economic recovery plans of the Federal Government.
According to him, "Lagos is not just going to London for the parade and pageantry; this visit has a more strategic purpose. This is a prime opportunity to showcase Lagos on a global platform. The newly inaugurated LIFC Council signifies not just an institutional milestone, but a commitment to a bold vision—positioning Lagos as the beacon of financial innovation in Africa.
"The Lord Mayor, Professor Michael Mainelli's invitation stands as a resounding endorsement of Lagos State's commitment to excellence, as well as recognition of its increasing economic prominence. This invitation aligns harmoniously with the council's mission to establish Lagos as a global financial hub, attracting investments that will fuel sustainable economic development.
"Lagos and Nigeria's enduring history with the United Kingdom reflects a proud Commonwealth partnership since gaining independence in 1960. Nigeria remains dedicated to fostering diplomatic and economic ties, presenting abundant investment opportunities in sectors such as oil, finance, technology, agriculture, healthcare, and infrastructure.
"This resilient partnership, combined with Nigeria and Lagos's commitment to growth, creates a promising landscape for UK investors eager to contribute to and benefit from the nation's dynamic and expanding economy."
The governor stated further that the state government partnered EnterpriseNGR in recognition of the fact that it stands as the voice of enterprise, fervently advocating for the growth and development of the Financial and Professional Services (FPS) sector.
On his part, Mr. Aigboje Aig-Imoukhuede, EnterpriseNGR's Chairman, who joins the governor as co-chair of the council said "EnterpriseNGR stands as a catalyst for transformative change in Nigeria's Financial and Professional Services sector. Our vision extends beyond advocacy; it's a commitment to incentivise investments that go beyond financial gains.
"As we embark on this historic delegation to showcase Lagos on the global stage, we recognise the profound significance of attracting investments. Investment isn't merely a transaction; it's a catalyst for job creation, driving sustainable development and fostering a symbiotic relationship between investors, the State, and the communities at large."
The Chief Executive Officer of EnterpriseNGR, Ms. Obi Ibekwe said "EnterpriseNGR's participation in this historic delegation to the Lord Mayor's Show underscores the critical role we play in driving transformative change within Nigeria's Financial and Professional services sector.
"We are not just advocating for growth; we are actively working to create a dynamic, interconnected and thriving FPS sector. The inauguration of the Lagos International Financial Centre (LIFC) Council is a testament to our unwavering commitment to fostering strategic partnerships that contribute to the economic prosperity of Lagos and Nigeria."